A couple of years ago I came to the conclusion that I have been doing the chores around my home in the wrong way. I was on a vacation with my family. While we were packing up, a housekeeper came and sprayed a cleaner on every area and surface, and then, to my great surprise, left the room. I did not know what to think so I assumed he simply had forgotten but right then he came back. He wiped the surfaces for a couple of minutes with a cloth and then everything was looking spotless. Honestly, I have never thought of doing the same trick and let the spray do all the work for me. Not until then. Without a question, professional housekeepers have fantastic tricks to do the job in the most efficient and quick manner. If only there was a way to find out more about these tricks… of course, there is. Let me help you! Below I will share with you a few tips on how to properly clean your home much more efficiently- like a pro.
The easiest way to clean your home
A lot of people do not know it or have never thought of it, but one of the biggest mistakes is to clean room by room (professionals have a name for it- zone cleaning). However, it takes too much time! There are two options – you can either clean the bathrooms in 3 hours, or clean the entire home ceiling to floor in three hours. The decision is yours! Many people concentrate on simply one zone, for example, doing an extraordinary job cleaning the oven but never get to the floors, let alone the rest of the rooms. Just dusting and wiping surfaces down and getting to the other areas is quick and effective.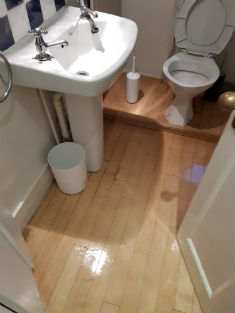 Professional housekeepers are second to none when it comes to "task cleaning": doing one chore at a time, such as wiping every surface in the house before moving on to the next task. Yes, you have to walk more but it is a good exercise, too. Once you try this tactic you will see for yourself that is quicker because you are in a mindset to keep going. Take advantage of these pieces of advice and your entire home will be looking at its sparkling best in a few hours.
The ultimate cleaning guide
First things first. If you want to clean your home like a professional, you need to know the golden rule: Top to bottom, left to right! Keep it in mind and roll up your sleeves! For each and every task, try to start cleaning from the highest spot of the room (if removing the cobwebs, start at the highest corners), and move from side to side across the room. Following this rule, you can be sure that you will not miss a detail and what is even more important- you will not have to clean the same areas twice!
#1 Dust each room
A good rule of a thumb is to start doing the chores with dusting. Make sure to dust every room, including the pieces of furniture, shelves, lampshades, TV and PC screens, undersides of furniture and shelves, baseboards and knick-knackery. If it is possible, go for the dry dusting. However, for removing fingerprints, use a damp cloth and water.
When you dust, do not forget to look up top. People often neglect the tops of furniture and appliances, and that's the place where most of the dust accumulate.
#2 Clean furniture fabric
For a deep cleaning of your home, every area and zone has to be given the attention it needs. It is why you need to strip and remake beds, as well. Do not forget to neaten cushions, pillows, blankets and comforters. Vacuum the fabrics with a vacuum attachment if necessary.
#3 Clean mirrors, mirrored and glass surfaces
Wash down all windows and mirrors throughout your home. There is no need to pay through your nose for glass cleaners when you can simply use water, vinegar, rubbing alcohol and a few drops of essential oil (optional). Combine the ingredients in a spray bottle and spray the solution onto a microfiber cloth, and then wipe the glass. Professionals advise not to clean windows on hot days because the solution can leave many streaks.
#4 Clean all surfaces
Hand wipe every surface and work top in the property. If it is needed, disinfect as well. Make sure to clean all areas which fingers touch such as light switches, plugs, door knobs, handles, etc. People often forget about these areas but they should not be missed or neglected because they hold germs.
#5 Clean bathrooms and kitchen
To make the cleaning process easier for you, spray solution on sinks, toilet bowls and bathtubs. Let it sit for a couple of minutes and then return to wipe. After this, do the same in the kitchen. Pay extra attention to the appliances as you use them quite frequently. Wipe the countertops, inside and out the microwave, dishwasher and fridge. Clean cabinets and drawers, too.
#6 Clean floors
For an efficient floor cleaning, start with sweeping them and then mopping or scrubbing them. In the bathrooms, since the area is smaller, you can try to clean the floor on your hands and knees because only this way you can be sure that you cover every corner. Do not skip the cleaning behind the toilet.
#7 Vacuum
Vacuum the house. Luckily, there is no need to vacuum absolutely every inch of the house. The key is to keep moving. In case there are spots which you miss, do not worry, you will cover them next time.
If you are on a tight budget, do not worry about the effectiveness of doing the chores. Allot money for a microfiber mop because it is a lot cheaper and less wasteful than the disposable ones. You can use to clean anything from concrete to hardwood floors. The good part is that you can use it for removing cobwebs from high corners.